Product Summary
The LMH6715MA is a Dual Wideband Video Op Amp. The LMH6715MA combines National's VIP10 high speed complementary bipolar process with National's current feed-back topology to produce a very high speed dual op amp. The device provides 400MHz small signal bandwidth at a gain of +2V/V and 1300V/μs slew rate while consuming only 5.8mA per amplifier from±5V supplies. The LMH6715MA offers exceptional video performance with its 0.02% and 0.02° differential gain and phase errors for NTSC and PAL video signals while driving up to four back termi-nated 75-loads. The applications of the LMH6715MA include HDTV, NTSC & PAL video systems, Video switching and distribution, IQ amplifiers, Wideband active filters, Cable drivers, DC coupled single-to-differential conversions.
Parametrics
LMH6715MA absolute maximum ratings: (1)ESD Tolerance, Human Body Model: 2000V; Machine Model: 150V; (2)VCC: ±6.75V; (3)Common-Mode Input Voltage: ±VCC; (4)Differential Input Voltage: 2.2V; (5)Maximum Junction Temperature: +150℃; (6)Storage Temperature Range: -65℃ to +150℃; (7)Lead Temperature (Soldering 10sec): +300℃.
Features
LMH6715MA features: (1)Very low diff. gain, phase: 0.02%, 0.02°; (2)Wide bandwidth: 480MHz (AV = +1V/V); 400MHz (AV = +2V/V); (3)0.1dB gain flatness to 100MHz; (4)Low power: 5.8mA/channel; (5)-70dB channel-to-channel crosstalk (10MHz); (6)Fast slew rate: 1300V/μs; (7)Unity gain stable; (8)Improved replacement for CLC412.
Diagrams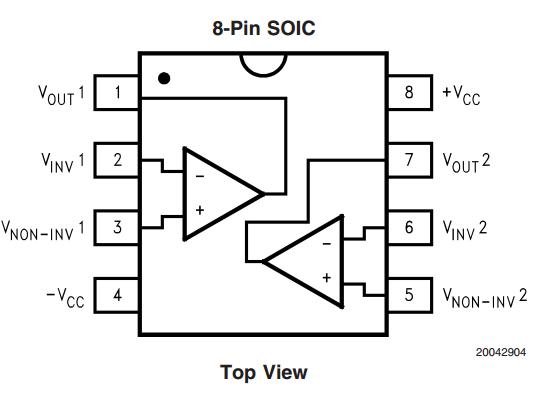 Image
Part No
Mfg
Description
Pricing
(USD)
Quantity

LMH6715MA

National Semiconductor (TI)

Operational Amplifiers - Op Amps

Data Sheet



| | |
| --- | --- |
| 0-380: | $1.19 |
| 380-570: | $1.04 |
| 570-1045: | $0.80 |
| 1045-5035: | $0.77 |


LMH6715MA/NOPB

National Semiconductor (TI)

Operational Amplifiers - Op Amps

Data Sheet



| | |
| --- | --- |
| 0-1: | $1.84 |
| 1-25: | $1.48 |
| 25-100: | $1.34 |
| 100-250: | $1.19 |


LMH6715MAX/NOPB

National Semiconductor (TI)

Operational Amplifiers - Op Amps

Data Sheet



| | |
| --- | --- |
| 0-1850: | $0.80 |
| 1850-2500: | $0.80 |
| 2500-5000: | $0.77 |


LMH6715MAX

National Semiconductor (TI)

Operational Amplifiers - Op Amps

Data Sheet



| | |
| --- | --- |
| 0-2500: | $0.80 |
| 2500-5000: | $0.77 |