Product Summary
The LM2940T is a positive voltage regulator. The LM2940T features the ability to source 1A of output current with a dropout voltage of typically 0.5V and a maximum of 1V over the entire temperature range. Furthermore, a quiescent current reduction circuit has been included which reduces the ground current when the differential between the input voltage and the output voltage exceeds approximately 3V. The quiescent current with 1A of output current and an input-output differential of 5V is therefore only 30 mA. Higher quiescent currents only exist when the LM2940T is in the dropout mode (VIN-VOUT ≤ 3V).
Parametrics
LM2940T absolute maximum ratings: (1)LM2940S, T, MP ≤ 100 ms: 60V; (2)LM2940CS, T ≤ 1 ms: 45V; (3)Maximum Junction Temperature: 150℃; (4)Storage Temperature Range: -65℃ ≤ TJ ≤ +150℃; (5)ESD Susceptibility: 2 kV.
Features
LM2940T features: (1)Dropout voltage typically 0.5V @IO =1A; (2)Output current in excess of 1A; (3)Output voltage trimmed before assembly; (4)Reverse battery protection; (5)Internal short circuit current limit; (6)Mirror image insertion protection; (7)P+ Product Enhancement tested.
Diagrams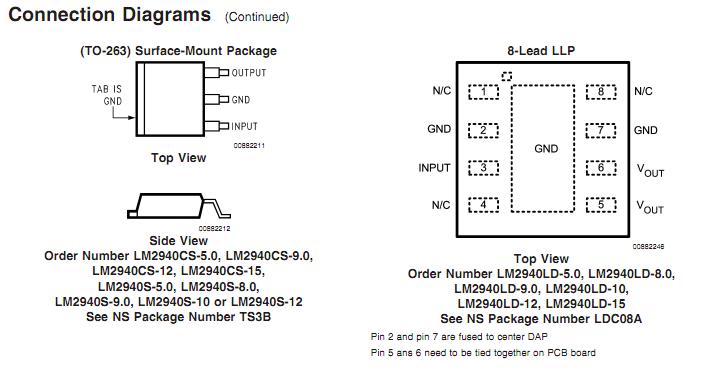 Image
Part No
Mfg
Description
Pricing
(USD)
Quantity

LM2940T-5.0/LB01

National Semiconductor (TI)

Low Dropout (LDO) Regulators

Data Sheet



| | |
| --- | --- |
| 0-630: | $0.64 |
| 630-1035: | $0.53 |
| 1035-2520: | $0.50 |
| 2520-5040: | $0.48 |


LM2940T-5.0/LF01

National Semiconductor (TI)

Low Dropout (LDO) Regulators

Data Sheet



| | |
| --- | --- |
| 0-630: | $0.64 |
| 630-1035: | $0.53 |
| 1035-2520: | $0.50 |
| 2520-5040: | $0.48 |


LM2940T-9.0/NOPB

National Semiconductor (TI)

Low Dropout (LDO) Regulators

Data Sheet



| | |
| --- | --- |
| 0-1: | $1.01 |
| 1-25: | $0.80 |
| 25-100: | $0.70 |
| 100-250: | $0.61 |


LM2940T-9.0

National Semiconductor (TI)

Low Dropout (LDO) Regulators

Data Sheet



| | |
| --- | --- |
| 0-630: | $0.64 |
| 630-1035: | $0.53 |
| 1035-2520: | $0.49 |
| 2520-5040: | $0.48 |


LM2940T-8.0

National Semiconductor (TI)

Low Dropout (LDO) Regulators

Data Sheet



| | |
| --- | --- |
| 0-630: | $0.55 |
| 630-1035: | $0.43 |
| 1035-2520: | $0.40 |
| 2520-5040: | $0.38 |


LM2940T-5.0/LF08

National Semiconductor (TI)

Low Dropout (LDO) Regulators

Data Sheet



| | |
| --- | --- |
| 0-630: | $0.64 |
| 630-1035: | $0.53 |
| 1035-2520: | $0.50 |
| 2520-5040: | $0.48 |


LM2940T-5.0

National Semiconductor (TI)

Low Dropout (LDO) Regulators

Data Sheet



| | |
| --- | --- |
| 0-1: | $1.05 |
| 1-25: | $0.81 |
| 25-100: | $0.74 |
| 100-250: | $0.61 |


LM2940T-12.0

National Semiconductor (TI)

Low Dropout (LDO) Regulators

Data Sheet



| | |
| --- | --- |
| 0-630: | $0.64 |
| 630-1035: | $0.53 |
| 1035-2520: | $0.49 |
| 2520-5040: | $0.48 |